AMON WORKSHOP 2019
Thank you very much for joining us at the 6th AMON workshop!
We hope to see you again soon in the next event!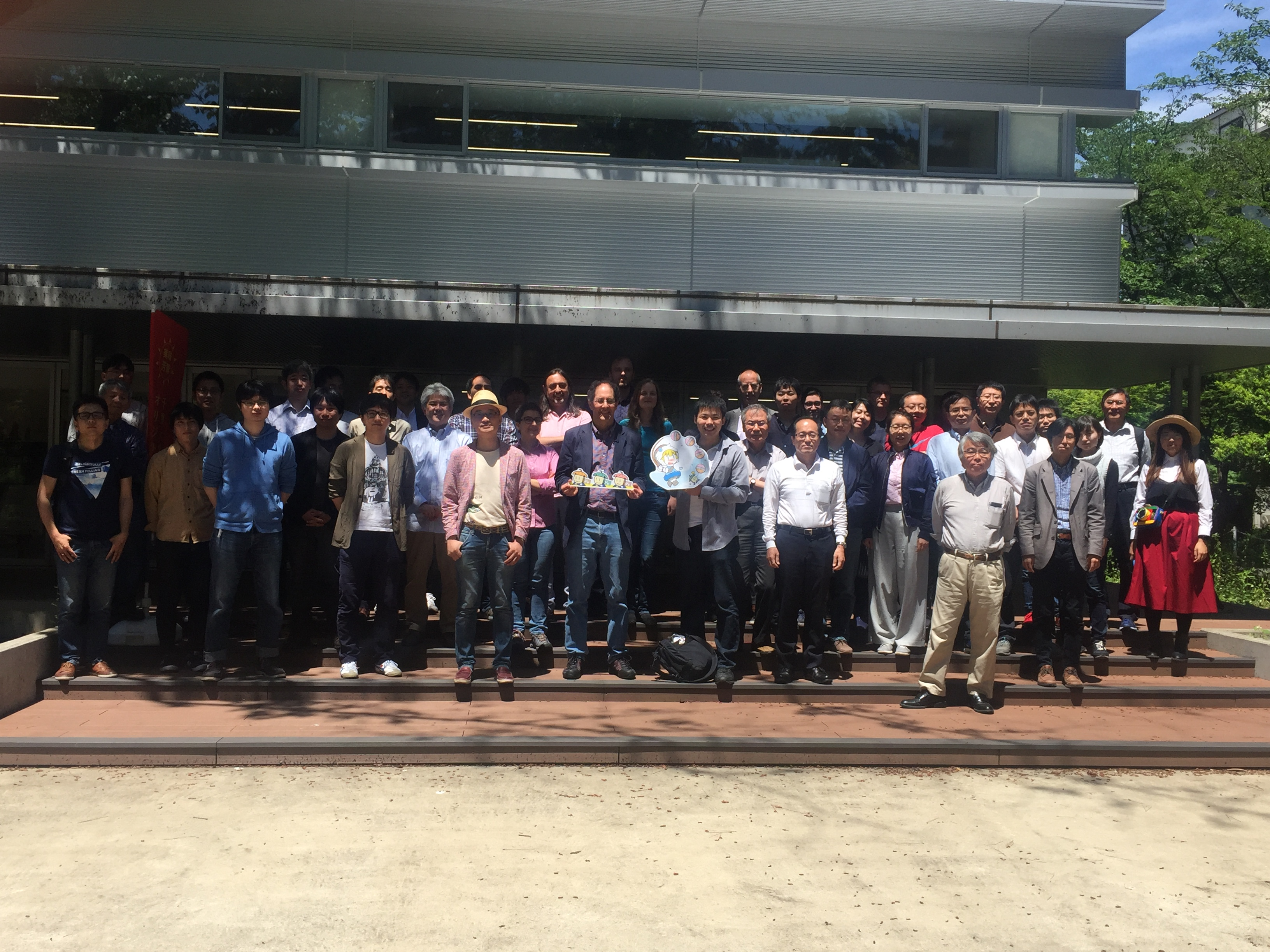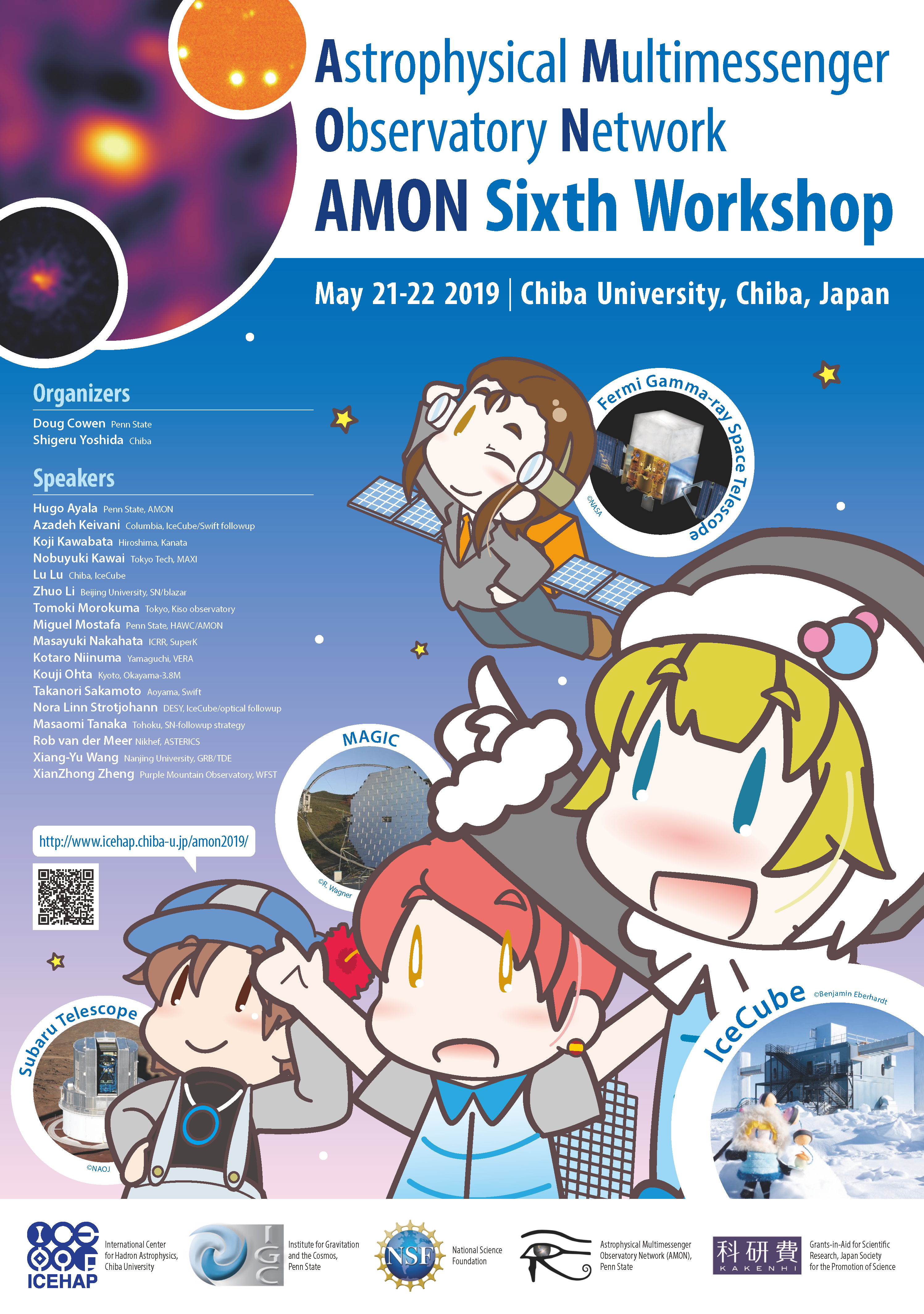 [ Click above to open the poster in PDF ]
▶Jump to the Workshop Program
▶▶ The Workshop Program to Print [PDF]
♦Date

Tuesday, May 21 - Wednesday, May 22, 2019

♦Place

ICEHAP Neutrino Astrophysics Dept.,
Chiba Uviversity, Engineering Research Bldg1 - 6th floor ›››ACCESS MAP
Welcome
---
The sixth Astrophysical Multimessenger Observatory Network (AMON) Workshop will be held in Chiba, Japan, on Tuesday and Wednesday, May 21st and 22nd, 2019.

This workshop is being held to explore the future potential of multi-messenger observations by the collection of sub-threshold events, which cannot be recognized as intriguing signals by observations in individual experiments (such as neutrino, gamma-ray, gravitation wave, etc.), as well as investigating unknown celestial phenomena by comparing mutual time and space correlation. We also would like to exchange ideas and informations between various observatories including ones conducting non-electromagnetic sky monitor such as neutrino telescopes.

This coming workshop will be the first one held in Asia/Pacific and will focus on disseminating the significance of alerts from IceCube, SuperK, and various space telescopes to each astronomical observatory in the Asia-Pacific region. It will encourage observatories of visible light, infra-red, radio wave and so on to conduct follow-up observations and pursue science across community barriers.

Purpose:

1) Construction of a network of Multimessenger follow-up observatories by receiving alerts from non-electromagnetic observatories, brought by mutual understanding and cooperation among observers, and analysis of integrated data.

2) Understanding of theoretical backgrounds for implications of the Multimessenger observations.

3) Generating interest from astronomers in the Asia-Pacific region.




Organizers
---
Doug Cowen ( Penn State )
Shigeru Yoshida ( Chiba )




Invited Speakers
---
Hugo Ayala
(Penn State Univ., AMON)
Azadeh Keivani
(Columbia Univ., IceCube/Swift followup)
Koji Kawabata
(Hiroshima Univ., Kanata)
Nobuyuki Kawai
(Tokyo Tech Univ., MAXI)
Lu Lu
(Chiba Univ., IceCube)
Zhuo Li
(Peking Univ., SN/blazar)
Tomoki Morokuma
(Tokyo Univ., Kiso observatory)
Miguel Mostafa
(Penn State Univ., HAWC/AMON)
Masayuki Nakahata
(ICRR, SuperK)
Kotaro Niinuma
(Yamaguchi Univ., VERA)
Kouji Ohta
(Kyoto Univ., Okayama-3.8M)
Takanori Sakamoto
(Aoyama Univ., Swift)
Nora Linn Strotjohann
(DESY, IceCube/optical followup)
Masaomi Tanaka
(Tohoku Univ., SN-followup strategy)
Xiang-Yu Wang,
(Nanjing Univ., GRB/TDE)
XianZhong Zheng
(Purple Mountain Observatory, WFST)
Rob van der Meer,
(European Collaboration, ASTRON)


Visa
---
There are some countries and regisons that require a visa to enter Japan for a short-term stay.
Please refer the website of the Ministry of Foreign Affairs of Japan for the visa application procedure.
▶▶ Ministry of Foreign Affairs of Japan


If you need an invitation letter from us, please request .

* From April 27 to May 6, we are going to be closed for the consecutive national holidays.
Please note that it may take longer with paperworks due to the office closed.




Workshop Location
---
The workshop will be held in ICEHAP office on 6th floor of the Engineering Research Building 1 in Chiba University, 1-33 Yayoi-cho, Inage-ku, Chiba-shi, Chiba.


The nearest airport is Narita Airport and the nearest station to the campus is JR Nishi Chiba Station.

To find your way to Nishi Chiba Station from Narita Airport,
a useful access navigation is available here(External Link)

Please also see the Direction to ICEHAP office guided by IceCube-san and Neutrino.

Workshop Program
▶▶ The Workshop Program to Print [PDF]
---
*Names listed in boldface = Invited Speakers
May 21 (tue)
TIME
SPEAKERS
TITLE OF THE TALK
PRESENTAION FILE (PDF)

-- Source studies with multi messenger observations --

9:30 - 10:00
Xiang-Yu Wang (Nanjing)
Gamma-ray transients and follow-up observations
PDF [6MB] 
10:00 - 10:30
Zhuo Li (Beijing)
high energy neutrinos from blazars and supernovae
PDF [2MB] 
10:30 - 10:50
Haoning He (Riken)
Neutrinos From A Past Hypernova In The Galactic Center
PDF [4MB]
10:50 - 11:00

Coffee Break

-- Multi-messenger observations --

11:00 - 11:30
Nobuyuki Kawai (Tokyo Tech)
MAXI
PDF [63MB] 
11:30 - 12:00
Takanori Sakamoto (Aoyama)
Multi-messenger Astronomy with Swift
PDF [48MB] 
12:00 - 13:15

Lunch Time

13:15 - 13:45
Lu Lu (Chiba)
IceCube Alerts for high energy neutrino astronomy
PDF [5MB]
13:45 - 14:15
Azadeh Keivani (Columbia)
Seeking the sources of high energy neutrinos with Swift
PDF [9MB] 
14:15 - 14:45
Koji Kawabata (Hiroshima)
Time domain astronomy with `Kanata' and `HinOTORI' telescopes
PDF [5MB] 
14:45 - 15:00

Coffee Break

15:00 - 15:30
Tomoki Morokuma (Tokyo)
Optical Wide-Field Surveys with Kiso/Tomo-e Gozen
PDF [26MB]
15:30 - 16:00
Masaomi Tanaka (Tohoku)
SN flolowup strategy
PDF [4MB]
16:00 - 16:30
Nora Linn Strotjohann (DESY)
Search for the optical counterparts of IceCube neutrinos
PDF [2MB]
16:30 - 17:15
Discussion starting point: How can we pin down new sources (other than blazars) with multi-messenger observations?
18:15~?????

Banquet @

ICHIRIN in Chiba
May 22 (wed)
TIME
SPEAKERS
TITLE OF THE TALK
PRESENTAION FILE (PDF)

-- Observatories in Asia --

9:15 - 9:45
Masayuki Nakahata (ICRR)
Detection of supernova neutrinos at Super-Kamiokande
PDF [5MB] 
9:45 - 10:15
Kouji Ohta (Kyoto)
Okayama-3.8m
PDF [1MB] 
10:15 - 10:45
Kotaro Niinuma (Yamaguchi)
Radio follow-up with Japanese VLBI Network and East Asia VLBI Network
PDF [2MB] 
10:45 - 11:00

Coffee Break

11:00 - 11:30
XianZhong Zheng (PMO)
The 2.5m Wide-Field Survey Telescope: Goals and Status
PDF [36MB] 
11:30 - 11:50
Nozomu Tominaga (Konan)
Follow-up observation with Subaru/HyperSuprime-Cam
PDF [1MB] 
11:50 - 13:10

Lunch Time

13:10 - 13:30
Shu Zhang (IHEP)
Multiwavelength observation in Insight-HXMT era
PDF [6MB] 

-- AMON --

13:30 - 14:00
Hugo Ayala (Penn State)
The Astrophysical Multimessenger Observatory Network
PDF [16MB] 
14:00 - 14:10

Coffee Break

14:10 - 14:40
Miguel Mostafa (Penn State)
HAWC and its connection to AMON
PDF [42MB]
14:40 - 15:10
Rob van der Meer (ASTRON)
ASTERICS: multi-messenger astrophysics collaboration
PDF [19MB] 
15:10 - 15:20
Discussion How can observatories in Asia contribute to astrophysics with AMON?
15:20 - 15:50
Discussion future proposal for multi-messenger observations
Participants
---
In alphabetical order
Ashida, Yosuke
( Kyoto Univ. )
Ayala, Hugo
( Penn State Univ., AMON )
Cowen, Doug
( Penn State Univ. )
He,Haoning
( RIKEN )
HUANG, YUE
( Insitute of high energy physics, Chinese Academy of Sciences )
Jiang, Jian
( Kavli IPMU )
Kasahara, Katsumasa
( Shibaura Univ. of Technology )
Kawabata,Koji
( Hiroshima Univ., Kanata )
Kawai,Nobuyuki
( Tokyo Tech Univ., MAXI )
Keivani,Azadeh
( Columbia Univ., IceCube/Swift followup )
Kifune,Tadashi
( Tokyo Univ. )
Kurihara, Miki
( Chiba Univ., Matsumoto Lab )
Lamoureux,Mathieu
( INFN Sezione di Padova/SK )
Li,Zhuo
( Peking Univ., SN/blazar )
Lin,Haoxiang
( Department of Astronomy, The University of Tokyo )
Lladrovci,Arber
( Chiba Univ. )
Lu,Lu
( Chiba Univ., IceCube )
Matsumoto,Ryoji
( Chiba Univ. )
Mizuno, Tsunefumi
( Hiroshima Univ. )
MORITA, Masahiro
( Tokyo Univ. )
Morokuma,Tomoki
( Tokyo Univ., Kiso observatory )
Mostafa,Miguel
( Penn State Univ., HAWC/AMON )
Murase,Kohta
( Penn State Univ. )
Nakahata,Masayuki
( Kamioka Observatory, ICRR, Univ. of Tokyo )
Niino,Yuu
( Tokyo Univ. )
Niinuma,Kotaro
( Yamaguchi Univ., VERA )
Nishijima,Kyoshi
( Tohkai Univ. )
Ohgami,Takayuki
( Kohnan Univ. )
Ohta,Kouji
( Kyoto Univ., Okayama-3.8M )
Okada,Ryo
( Okayama Univ. )
Petersen,Pip
( Penn State University )
Qu, Jin Lu
( Institute of High Energy Physics, Chinese Academic of Science )
Sakai,Seiya
( Okayama Univ. )
Sakamoto,Takanori
( Aoyama Univ., Swift )
Sakon,Shio
( International Christian University )
Schramm,Malte
( NAOJ )
Strotjohann,Nora Linn
( DESY, IceCube/optical followup )
Tanaka,Masaomi
( Tohoku Univ., SN-followup strategy )
Tominaga, Nozomi
( Kohnan Univ. )
Utsumi, Yosuke
( Stanford/SLAC )
Van der Meer,Rob
( (European Collaboration, ASTRON) )
Wang,Xiang-Yu
( Nanjing Univ., GRB/TDE )
Yoshida, Shigeru
(Chiba Univ.)
Zhang,Shu
( Institute of High Energy Physics, Chinese Academic of Science )
Zheng,XianZhong
( Purple Mountain Observatory, WFST )
and ICEHAP members
Hotel Information
---
Hotel information is available here. (External Link)
Places to Eat
---

Click below to see a map[PDF] for good places to eat near the university.

English Map Japanese Map


3 Chiba University Food Courts (Cafeteria) are also available.
Location [PDF]


| | |
| --- | --- |
| Food Court 1 | 9:30~18:30 |
| Food Court 2 | 11:00~15:00 |
| Food Court 3 | 11:00~14:30 |
Useful Website to explore Japan
---
There are several useful websites to find fun in Japan: